Op 17 december 1716 werd tijdens de vergadering van de Kerkenraad Johanna 'binnen gestaan' met het verzoek om 'nopens haar goet gedragh' te mogen worden gedoopt. Johanna was, zo schrijft de notulist, 'een Indiaansche doghter van Mallaca eertijds genaamt Grasia'.
Nadat zij werd ondervraagd over het geloof werd haar verzoek toegestaan en enkele dagen later, op 23 december, werd zij in de Nieuwe kerk gedoopt.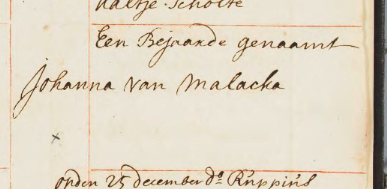 De slaafgemaakte Grasia was door Anton Bitter en Appolonia Coisaart meebracht naar de Republiek, zoon en schoondochter van de door Leonard Blussé beroemd geworden jurist Joan Bitter. Of Johanna na haar doop als dienstbode bij de familie Bitter in huis bleef, een eigen leven in Amsterdam heeft opgebouwd of is teruggekeerd naar Azië is nog niet bekend.